I made this traditional West Greenland paddle for my son, Karl, a sea kayaker extraordinaire, out of a rough sawn sassafras 2″ x 4″.  This one is actually called a "storm" paddle because, at roughly 70″ (178 cm) long, it is shorter overall and has a shorter "loom" (the hand grip) than is true for a full size West Greenland paddle at approx. 8′ (244 cm).  While the Inuit made their paddles out of whatever wood drifted onshore, I chose sassafras, a minor North American hardwood, because it is relatively strong, light, and holds up well in fresh and salt water. [All photos
Max Vollmer,  Click on any photo to enlarge]
The simple appearance of the paddle belies the challenge involved in making one.  My first steps were to mark out centerlines on both the thick and thin dimensions of the 2″ x 4″, as well as the location and shape of the loom.  These lines guided me in creating the tapers in both width and thickness of the paddle blades.
Next, I used my bandsaw to rough out the loom and then shaped the blades with a drawknife and spokeshave, finishing up with a belt sander.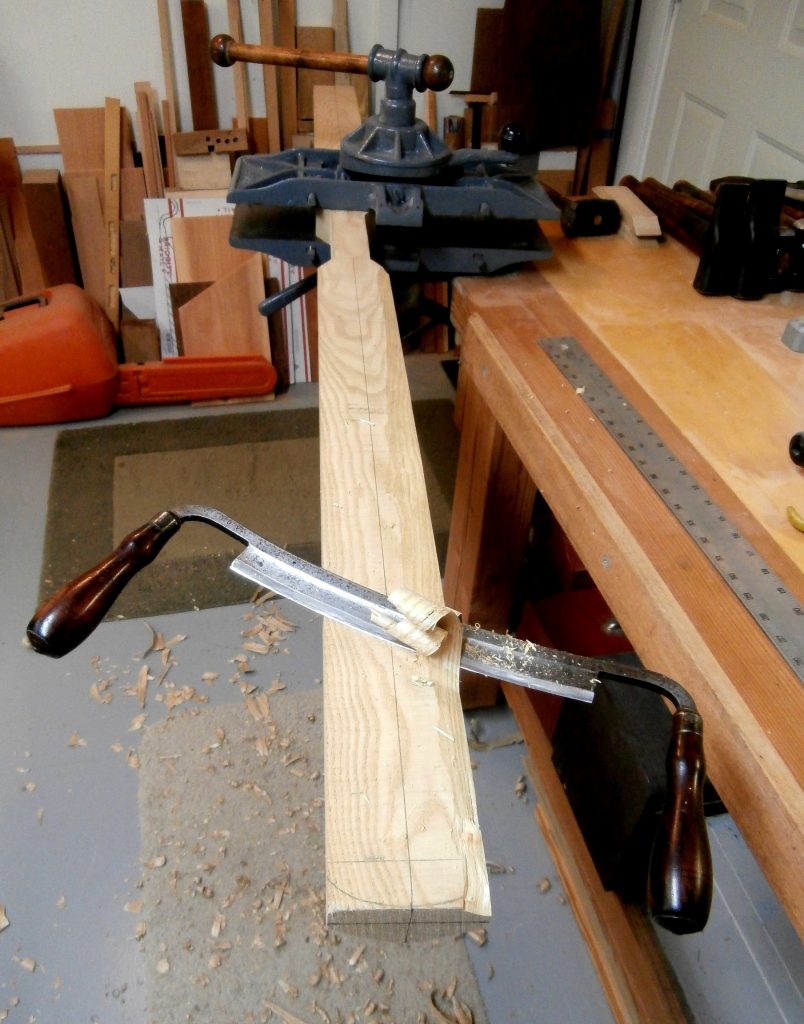 Holding the paddle "blank" in the grip of my 1930's vintage Emmert patternmaker's vise made this shaping possible.   The Emmert has been known to generations of patternmakers as "The Iron Hand" for its ability to twist, rotate and lock its jaws in an infinite number of positions.
The loom is shaped so that the paddler's thumbs can grip against "shoulders" cut at an approximate 45 degree angle on one side, while the fingers wrap around a splayed  grip on the other side.  The cross sectional dimension of the loom is sized to the individual kayaker's hands, in this case to Karl's hands.  See the photo below.
I finished the paddle with two coats of 100% Tung oil.  Tung oil has no VOC (volatile organic compounds),  is slow drying between coats, but offers good protection for the wood in water and can be renewed as needed.